2020 National Historic Vehicle Survey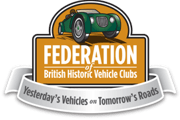 This survey is being conducted on behalf of the Federation of British Historic Vehicle Clubs and aims to generate important insights on the sector. The answers you give will help shape the future for historic vehicles in Great Britain.
This is a critical survey for the historic vehicle movement. The term 'historic vehicle' is used to describe all vehicles that are 30 years of age or older i.e. 1990 or prior, and refer to cars, motorcycles, buses, coaches, lorries, vans, agricultural, steam and military vehicles.
The Federation undertook an extensive National Historic Vehicle Survey in 2016 which showed that the movement is worth £5.5 billion to the economy each year and directly supports employment for over 34,000 people.
It was planned that this survey would be updated in 2021 based on activities during 2020. In the light of the devastating effects of Covid-19 and the cancellation of so many historic vehicle meetings it has been decided to bring forward the survey to use 2019 as the base year. When you complete the survey please consider your answers in the context of activities undertaken in the year to December 2019.
The answers you give will be used to benefit the historic vehicle movement as a whole and will shape the future focus of the FBHVC acting on behalf of its member organisations and all enthusiasts.
If you do not have a vehicle within the definition above, there are questions later in the survey for vehicles produced between 1991 and 2000.
The survey takes approximately 15-20 minutes to complete.
Closing date 12th October 2020.