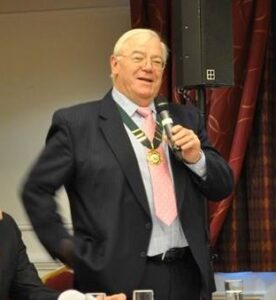 We are delighted to announce that our very own Mr President, Andrew Semple, has been awarded the Lifetime Achievement Award from the National Transport Trust for 50-years service to the Steam World.
Below is a history about Andrew, written by his son, Richard Semple.
"Having been born and brought up in Settle, North Yorkshire in November 1944, and with the family Hotel backing onto the famous Railway Line. I suppose it was inevitable that a lifelong interest in Steam would be fostered from an early age. As most of the local railway drivers and staff drank in the hotel bar he was regularly to be found on the footplate "helping out".
At the age of around 14 he was told of a gentleman by the name of John Crowther who lived in the next village of Long Preston who had a collection of Traction Engines. So on his pushbike he got and set off to find him.
John was very welcoming to a young dad and encouraged him in and so started a lifelong friendship. John had quite a collection of Traction Engines including Aveling Tractor 'Oberon'. Ruston Agricultural 'Queen Bess', a couple of Marshall Portables, Ruston Proctor Tractor 'The Lincoln Imp'. He soon acquired Burrell Road Loco 'City of Exeter'.
'Oberon' was rallied extensively being driven by road everywhere. It would be the first engine Dad would drive single handed at the age of 18. On remarking he didn't have a licence, John simply said "who's going to ask you for one?"
The Burrell later to be called 'The Dalesman' underwent a full rebuild and repaint with Dads help and make its first appearance in 1967 at Castle Howard rally, where it was widely agreed that it set a high standard for others to follow.
He was quite often loaned out to other local engine owners such as Dick Preston and Monty Thackery when they needed a steersman or crew.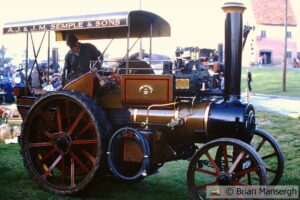 As time passed so the Ruston Tractor arrived in our family in 1975 to join vintage tractors, a threshing drum, a unique Ruston Traction wagon found filling a gap in a Herefordshire in the early 1980's; in the fullness of time this was fully rebuilt including the wooden wheels, an art he learnt to do himself.
The Ruston was rallied extensively for 20 years all over the UK, including Ireland, annual visits to the Netherlands, and 1 memorable trip to France.
In 1994 we swapped engines with a good friend, Andrew Melrose, as he fancied something to do, some roadwork, so we had his 1875 Single Cylinder Ploughing Engine 'Margaret'. Andrew's first trip out resulted in a blown tube; on closer inspection it was decided the Ruston needed some boiler work. So for the next 2 years Dad and myself travelled down to Andrew's workshops in Somerset every weekend to carry out the necessary boiler work including a new firebox, boiler barrel, back-head, tubeplate, tubes and the fabrication of a new saddle for the block. Nearly all of this work undertaken in-house by ourselves and Andrew Melrose.
On completion the boiler was brought home and reassembled. After running in, it was moved into a heated building over Christmas where a full repaint including lining out was carried out by us.
The engine was rallied again for several more years before the hard decision was made for new owners to be found that fitted the bill. So in 2014 we said a sad farewell after nearly 40 years as part of our family.
During this time he was a member and keen supporter of the National Traction Engine Club/Trust. Holding various positions including Rally Organisers Chairman, Vice Chairman, Chairman, Vice President and now President.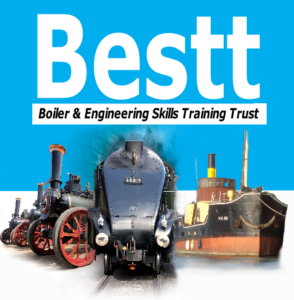 In recent times he has been a founder member of BESTT, a training trust set up to help pass on the boiler-making skills to the next generation.
After school he attended Royal Agricultural College in Cirencester studying Agricultural Engineering 1964-65 (where he met Mum) from there he went to work for IH.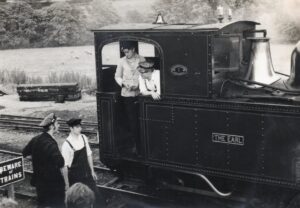 He was also very involved with the early days of the Welshpool Llanfair Railway being both driver and fireman during the years 1967-68-69, and still remains a member to this day.
In fact he and Mum were the first married crew to take a loco up the line .
A collection of Classic International Tractors is still held within the family, a company he worked for, for over 25 years and holds in great affection. Several of which have passed through the Semple Workshop."