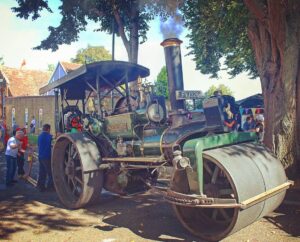 We have received an email from the Thomas Aveling Society…
Each year they organise a small birthday celebration in Hoo, near Rochester, to celebrate the life and legacy of the pioneering Victorian engineer Thomas Aveling. This is very much a small community event.
The celebration includes a short flower procession with local children dressed in Victorian clothing – to the grave of Thomas Aveling, in St. Werburgh Church.
This year's event will be on Saturday 11th September – the actual birthday of Thomas Aveling.
They are looking to invite one or two Aveling & Porter traction engines or steamrollers (or one of each) to attend the event as this usually generates great interest. If anyone around the area can help and is interested in attending, please contact Michael Pearce via thomasavelingsociety@outlook.com