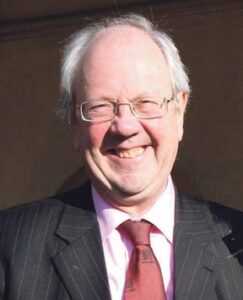 We were delighted to welcome our new Patron, Lord Faulkner of Worcester, to our Annual General Meeting on Saturday 20th November who gave a very interesting talk. 
Here are his words, below…
… " Good afternoon everyone.  May I start how much I appreciated your invitation to me to become your patron, which I was honoured to accept.
I should start by congratulating you on holding this session immediately after the conclusion the Cop 26 climate conference in Glasgow.  There have been times over the last four years I feared that by the law of unintended consequences we could, this autumn, have seen measures taken at Cop 26 and included in the Environment Bill – which has at last become law this month – which could have spelt the end of heritage steam in Great Britain.
In addition to closing down all coal-fired power stations by 2026, and ending coal-burning in our homes, they could have extended these prohibitions to members of the Heritage Fuels Alliance, including of course heritage steam railway operations.
I have worked really closely with the HRA and the HFA particularly over the last few months, and I want to thank all of you who have helped get the heritage rail message across to politicians and the media. 
Ours has had to be a cross-party approach in both houses of parliament, and the all-party parliamentary group on heritage rail which I set up with Nicky Morgan MP – now Baroness Morgan of Cotes – soon after the 2010 election has played a crucial part in getting to parts of government which individual politicians, let alone heritage railways, would have found difficult to penetrate.
The threat first came seriously to light in a government consultation entitled "Air quality: using cleaner fuels for domestic burning" published on 18 August 2018.
It was never said explicitly that burning of coal by the heritage sector would be prohibited completely, but a number of us with long memories recalled how steam was banned on BR standard gauge track in August 1968, and lasted for three years.  It ended in October 1971 when GWR No.6000 King George V hauled a Return to Steam Special.  If it had been banned once, why not again – particularly in more climate conscious times?
There was another factor that concerned us.  We noted that DEFRA's target was to eliminate pollution from burning bituminous coal in domestic grates.  We reckoned that eliminating the domestic coal market could make the supply of steam coal unsustainable for commercial reasons, and noted that Fos-y-Ffyn had lost its appeal to extend its mine in South Wales, meaning that supplies could run out within two years.
The planning process was making it more and more unlikely that applications to mine bituminous coal elsewhere, particularly in the north-east of England, would succeed, despite heavy lobbying by the companies concerned.
In the face of these threats and uncertainty, the Heritage Fuels Alliance was set up in September 2018, under the excellent chairmanship of James Hervey-Bathurst.  Those present at the first meeting represented the Heritage Railway Association, the National Traction Engine Trust, the Association of British Transport and Engineering Museums, and the Federation of British Historic Vehicle Clubs.  The HFA also represents steam boats and ships, and historic houses.
Various meetings with officials were held during the following months, and because we could see that the government had imminent plans for legislating in relating to climate change, I encouraged my colleagues in the Heritage Rail APPG to establish what might appropriately be called a "quick and dirty" enquiry at the beginning of 2019.
We had one piece of good fortune.  On 5 June 2019 I secured a debate on heritage railways and the involvement of young people.  Replying on behalf of the government, the DCMS minister, Lord Ashton of Hyde – he's since been promoted to the post of government chief whip, who in the House of Lords has the wonderful title of Captain of Her Majesty's Body Guard of the Honourable Corps of Gentlemen at Arms, and a very fancy uniform to go with it – said he wanted to speak about coal:
"Obviously, we appreciate the need to reduce public health risks, but we are working carefully to consider how we might achieve a successful balance between enhancing environmental and public health protection and ensuring that the UK's heritage vehicle industry—and, indeed, heritage houses that burn coal in grates—continues to thrive.
"My officials are meeting counterparts at Defra next week to discuss this, and Defra Ministers have previously publicly stated:
'The proposals in the consultation on domestic burning would not prevent heritage railways purchasing the fuels they need'". 
Shortly after this exchange in the House, the APPG published its report on coal entitled "Steaming Ahead?" with a question mark, "Heritage railways, coal and the future of steam locomotives in the United Kingdom".
There's no need for me to spend too long repeating the findings.  You can read the whole report on the HRA website.
Reading it again at the weekend I was struck by how accurate our analysis of the issues is.  We draw attention again to the economic importance of heritage railways – they're worth about £400 million to the British economy and are an important source of employment and skills training, particularly in rural areas.
We also say:
Steam trains are an essential part of the 'heritage offer' and are the principal attraction for visitors.
There is really no practical alternative to the use of coal for steam locomotives on Britain's heritage railways.
The economics of heritage railway operation are fragile and they are not well placed to absorb a significant increase in the price of coal. Such an increase would result in redundancies amongst paid staff, a restriction in operations, and possibly a smaller sector.
The Minister's confirmation that there is no intention to prevent coal burning for steam locomotives is welcome, but needs to be written into the strategy and any subsequent legislation. Its value is undermined if other aspects of the policy prevent future supplies or increase their cost dramatically.   
The report concludes that the total heritage railway consumption is 25,000 tonnes a year, spread amongst 158 railways.  Annual consumption by individual railways is small, the largest being North Yorkshire Moors Railway at 2,500 tonnes while the Keighley and Worth Valley, for example, burned 680 tonnes a year. 
At around £185 per tonne, coal was a significant part of the cost base of heritage railways, typically representing 10% of operating costs.   I suspect those figures will have changed for the worse over the last three years.
We make the point that if all domestic sources of coal supply are closed down it will still be possible to import coal suitable for burning in steam locomotives from Russia, and New South Wales, but the CO2 emissions from transporting it to Britain greatly exceed the emissions from burning it.  This suggests that in environmental terms, British mined coal would reduce the overall level of carbon emissions.  
That is the one issue on which I have since had to admit defeat.  I asked a question in the chamber on 21 January this year about what plans the government has to ensure that heritage organisations have access to sufficient supplies of locally produced coal to continue operating after 2021.  
The Defra junior minister, Lord Gardiner, gave me a fairly unhelpful reply:
"The legislation, which will come into force from May 2021," – which it didn't, because the Environment Bill has only just got –
"will end the sale of bituminous coal to households in England and lead to significant health benefits.
While we acknowledge the indirect impact that this may have on the supply of coal to businesses, it is vital that the Government and the sector continue to work together to transition to cleaner alternatives."
A rather good supplementary question was asked by Viscount Ridley:
"My Lords, I declare my interest as someone from whose land in Northumberland coal was being extracted until last year, including for heritage railways. The Minister will know that the Government refused permission for a further surface mine at Highthorn in Northumberland, disagreeing in the process with the county council, the planning inspector and the courts. I had no interest in that project, but I know some of the men who lost their jobs as a result.
"Given that this country has a continuing need for 5 million tonnes of coal a year, mostly for the cement and steel industries, as well as for the heritage rail industry, and that more of it now comes from Russia than any other country, with a far higher carbon footprint, why do the Government prefer to give jobs to people in western Siberia and take them away from people in Northumberland, and to increase emissions as a result while rewarding the persecutors of Alexei Navalny and Sergei Skripal?"
He didn't get much of an answer, I'm afraid.  We're not going to get new mines opened up in the UK, and the heritage sector will have to rely on imported coal in the future – but I do hope you can continue to make the most of what is available in Britain for as long as you can.
A further piece of advice for the HRA, which is endorsed in the APPG report, is to burn coal as efficiently as you can.  Black smoke represents unburnt coal and is inefficient and costly.  So as I said to an HRA seminar a couple of weeks no more photographs of plumes of black smoke from steam locomotives on frosty mornings, please!
During 2020 the government's Environment Bill made its way through the House of Commons, and it had its second reading in the Lords on 7 June.  A couple of weeks beforehand I managed to get the main Defra minister, in our House  – Lord Goldsmith – to a meeting with the Heritage Fuels Alliance, the HRA,  Conservative peer Lord Forsyth, who is president of the Steamboat Alliance and is a great supporter of our cause, and me.
James Hervey-Bathurst's note of the meeting reported that Goldsmith "made it clear that he did not see future legislation, primary or secondary, being introduced to change the position of heritage coal without proper discussion or debate.  Banning heritage coal would, he said, be a disproportionate response to a climate change agenda and would damage the great cultural and economic value of the steam sector.  New legislation must not have a negative impact; the rug must not be pulled from under the sector".
James concluded "Overall this was a good meeting. ZG was up to speed on the briefing and officials were supportive.  He understood our case and backed it.  He articulated the justification for keeping heritage coal activity alive and suggested other targets for lobbying."
I spoke in the Environment Bill second reading debate on 7 June, and said:
"I am happy to support what the Government are doing in this Bill, and I do not dissent at all from their wish to improve the natural environment and air and water quality. It is entirely appropriate that there should be legislation to bring about the necessary changes.
Clean and safe drinking water and effective sewerage in Victorian times, the smoking ban earlier this century, and the Clean Air Act of the 1950s were all the results of laws passed by Parliament. These all contributed massively to public health, and this Bill is intended to do the same. I certainly do not intend to oppose it.
However, such a policy brings with it a danger of unintended consequences. Had a ban on coal burning extended beyond domestic consumption, it would have wiped out almost overnight the entire heritage steam sector: coal-burning railway locomotives on conserved lines and main lines, traction engines, steamrollers, industrial museums, steamboats, pumping stations and traditional fires in historic houses.
I understand why the Government are ending coal-fired power generation by 2025, and I support the restrictions on domestic coal burning proposed in the Government's consultation on the clean air strategy. I also welcome Ministers' repeated assertions that the heritage sector is excluded from the proposals in the Bill. They are right to do so, bearing in mind that the quantity of coal used by the entire sector is no more than about 35,000 tonnes a year—the amount burned each day by the Drax power station before it was converted to biomass. Clearly the risk to public health is tiny.
However, having accepted that the sector may continue to burn coal to make steam, it will be essential that there is an affordable supply. I expect that in future all the coal needed will be imported from countries such as Russia, Colombia and the United States. Bearing in mind the scale of the carbon footprint involved in moving coal from one side of the world to another, that makes no sense to me while we here in Great Britain are sitting on vast unmined resources of our own.
I accept that we have lost that battle, and it is worth remembering that heritage railways in particular are working hard to reduce emissions and are researching the potential for artificial biocoal.
However, we must not lose the next battle in which another, less well-disposed, Government may decide to attack the activities of the heritage steam sector, perhaps under the climate change rather than clean air agenda, and we need some certainty for the future. My colleagues in the Heritage Fuels Alliance and the HRA and I greatly appreciated the opportunity to meet the Minister on 25 May to discuss these matters and we are happy to accept his assurances for the purposes of this Bill. He will recall that he said that banning heritage coal use would be a disproportionate response to the clean air and climate change agendas and would damage the great cultural and economic value of the steam sector to our tourism economy. I therefore hope that the Minister will agree to accept an amendment I plan to table in Committee that will put that welcome support into the Bill.
I got a partially encouraging reply from Lord Goldsmith.  In his closing speech he said he had enjoyed what he called "a passionate conversation" with me recently.  "The Government are very confident, as am I, that heritage railways will continue to operate, because although our electricity systems will no longer rely on coal, it can still be used by a range of industries that need it. The decision on where to source coal is, obviously, a matter not for the Government but for the companies involved."
During the committee and report stages of the bill I tabled amendments signed by Conservative Lord Forsyth, Liberal Democrat Lord Bradshaw, and the independent Earl of Clancarty – which sought to put beyond any doubt that the assurances given by ministers to the heritage steam sector were on the face of the bill, had the force of law and could not be reversed without fresh primary legislation.
I spoke at some length at the report stage on 15 September, and won't bore you by repeating all that I said.  Briefly my points were:
The economic benefit of the heritage sector, particularly in rural areas, especially where some heritage railways are the leading visitor attractions in their area, while any environmental impact is well away from clean air zones. Indeed, three national parks—the North York Moors, Snowdonia and Exmoor—all welcome and actively encourage their heritage railways.
On coal burning, the latest available figures, from 2018, show that emissions from coal boilers were 0.023% of total carbon dioxide emissions. The total heritage coal use is around 35,000 tonnes, compared with total UK coal consumption of 8.2 million tonnes. The sector has accepted with reasonably good grace that, in future, the coal it burns will not be mined in Britain, despite enormous untouched reserves, but imported. It is also working hard to reduce emissions and to trial the use of biocoal.
I mentioned a splendid speech in committee by the Conservative Baroness, Lady Neville-Rolfe who had warned that "this Bill could bring about the death of Thomas the Tank Engine and his or her nautical steamboat equivalent."
Lord Forsyth had posed a question which I put again this evening. He said: "It is important that people have the assurance of primary legislation, especially when we see so much legislation that contains powers for Ministers under Henry VIII clauses, pretty well to do as they like, and which this House can do nothing about by tradition because we do not vote against secondary legislation. Will the Minister say why the Government are resistant to putting a clear commitment in the Bill that heritage vehicles not only are not within the scope of the Bill but are protected from the whims of any Minister?" He described Ministers as being "here one day and gone the next—indeed, they can be here one afternoon and gone by evening."  A particularly apposite comment as that was the day of the latest government reshuffle.
I concluded by asking the government to agree that not only would their Bill be strengthened by incorporating the amendments on the face of the Bill but that they would also send a message of encouragement to a much-loved sector which gives so much pleasure to millions of people, contributes enormously to the national and regional economies, and which they, the Government, have supported financially through recent difficult times.
In the end the government would not agree to accept my amendments, but the minister promised to write to me, which she did on 11 October.  I've got her letter here, and I'll quote from it. 
"Thank you for contributions during our Report Stage …..further primary legislation."
My view – and I hope you will agree – is that we got almost everything that we wanted.  Obviously we have to rely on their good faith, but legal precedents would seem to confirm that assurances given by ministers to Parliament or in letters signed by them have the force of law.
So thank you again for the part you played in getting us to where we all wanted to be.
What of course I cannot guarantee – particularly in the light of the COP 26 conclusions – is that there will be coal available for you to buy.  But that I suggest is a discussion for another day.  Meanwhile thank you for listening to me today."