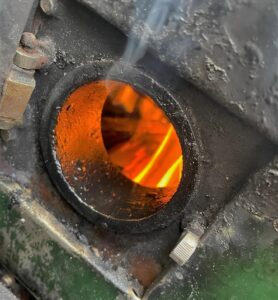 A few days prior to the Engine Owners Conference, held on 5th March 2022 as a Webinar, David Smith, Head of the Technical Services and TSU member John Durling met with senior members of Coal Products Limited (CPL).  The objective of the meeting was to explore the future availability of coal and in the face of reducing supply identify options open to the 'road going' and stationary engine users. 
After May 2023 bituminous coal will not be available to the domestic market in England, in any form.  This means that in the longer term, even though it is still being offered to the wholesale market, coal in 'lump form' will become less and less available to heritage users because of the economies of scale.  Although there is no known timescale at some point in the future we will have to have developed a credible alternative type of fuel. 
Given CPL's dominant position as the major producer of smokeless fuel in Europe it wasn't a surprise when they suggested that the owners of steam raising plant should experiment with the domestic fuels already on the market.
CPL also emphasised that their long term policy was to supply sustainably sourced environmentally friendly bio-fuel.  It was pointed out that, despite a few relatively successful trials on railway locomotives, the use so far of this type of fuel in traction engines was not successful. 
Invitation to participate in eCoal Development Trials
In response CPL have offered to supply to road-going users samples of the 3 eCoal blends of fuel they are currently bringing to market.  The objective is to develop a 'traction engine' variant of the fuel.
The NTET and CPL are pleased to invite owners (members and non-members) of road going, stationary or scale engines to participate in the development trials.  Although there is not an unlimited number of samples on offer we are keen to cover as broad a spectrum of engines as possible. 
If you wish to be considered for participation in the CPL Fuel Development Trials please contact Tom Attwood who is the Coal Trials Co-ordinator using this link coal.trials@ntet.co.uk.  Successful applicants will have the sample batches delivered to a place of their choosing.  They will receive from Tom instructions explaining the test conditions to be applied to the designated engine, along with test result recording sheets.
We asked CPL a whole bunch of question during our time with them.  The Questions and the Answers provided are available in PDF format be clicking on the button below.
If you wish to see a PDF version of the slides used in the presentation click on the button below.