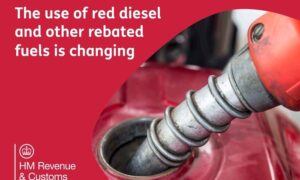 As from April 2022 the rules governing the use of Rebated Diesel fuel, commonly known as Red Diesel, are changing.
These changes are designed to 'incentivise' those in the construction and industrial sectors to adopt cleaner alternative fuels.
Red Diesel will continue to be available but will only be allowed to be used by those in agriculture, horticulture, fishing and forestry as well as the Rail industries and for heating of non-commercial premises.
Impact on Rallies and Road Runs.
Except perhaps for not being able to buy red diesel for cleaning and lighting up there will be little impact on the operation of an engine.
For those who run diesel engine tractors it means that you can't use red diesel in your tractor if you are taking part in a rally or a road run.  In reality there is no change because, for a long time, the use of red diesel on the road for non-agricultural purposes has been illegal; it just hasn't been rigorously enforced.
We are advised by members of the NFU that, for those in farming (and the other permitted sectors) where you wish to show a working vehicle, you must drain and purge all of the red diesel from the system.  The system can then be re-filled with white diesel. This requirement, and the fact that HMRC are vigorously enforcing the new rules, is not widely known to the public.  The NTET understands that the National Farmers Union and the National Association of Agricultural Contractors are fighting the above ruling, but so far no change has been agreed.
If you are a private owner of a tractor and previously ran it on red diesel you will have to clean the system as above.
It is not the job of the rally or road run organiser to police these rules: leave it to HMRC.  However, it may be prudent to state in your entry literature that the use of red (rebated) diesel at your event is not allowed by law.
John Durling
FBHVC Liaison Officer